The ICAM Outside Broadcast truck is available for small to medium outside broadcasts, live screen events, internet video and audio streaming, and post produced events.
6 Triax DIGITAL camera chains with full CCU & RCUís, fitted with OB viewfinders. Two Large Fujinon 44x lenses
Based upon a Mitsubishi Fuso rigid truck capable of towing a 3 tonne Tender trailer
The truck provides a floor area of 7.5 meters in length, divided into 2 main areas:
Production control/ videotape /2nd production-Graphics-post

Vision control/ Tech/ audio
The videotape/2nd production-Graphics-post area is a 2 tier design with facilities provided for a single operator fitted with a 4 channel Tektronix PDR-200 record/ play-out DDR (EVS) with a slow-motion controller and 2 Beta SP VTRs.
Our air-conditioned unit provides a streamlined facility with the capacity of accommodating 8 seated positions. It offers space and comfort without being confined to smaller commercial van outside broadcast vehicles.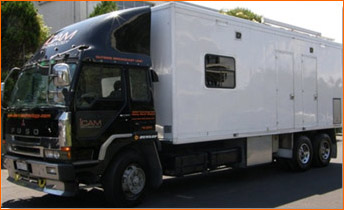 CAMERAS AND VISION
6 Triax camera chains 3 Hitachi SK-2600P, 3 Ikegami HL57 cameras (4:3 or 16:9 capable)
Remote control panels and Master panels
2 Fujinon 44 x 9.5 box lenses
6 Fujinon A14x8.5 BERM lenses
Vinten Tripods
ENG and Studio/OB Viewfinders
Focus and Zoom Demands
Comms Headsets (Ear-defender Headsets available)
Ross Synergy1 Digital production switcher input ,1 MLE Dual Key, Dual DSK 2D DVE Warp & Squeeze
Leitch SDI digital fabric and conversion
Ensemble Designs sync generator
Tektronix PDR200 Profile. 4 Channel DDR (25hr record capacity) EVS
DNF control 4 channel slow motion controller
20xTen Analogue Video & Stereo Audio Router
2x Analogue Frame stores
2 Camplex 301B Multiplex systems
CCU & Tech monitoring
GPS Timecode & Evertz reader/inserter
Tektronix 1731 WFM, Hamlet 301WVA vectorscope
AUDIO AND COMMS
Analogue Mackie 1604-VLZ. The mixer has 16 audio inputs, Stereo main mix with 4 Group outputs and, 6 Auxiliaries
4 dbx compressor/limiters, 2 dbx compressor/gates
Glensound GS-CU001 remote 3 channel commentators unit
Wardbeck 36x24 intercom matrix, 4 talkback panels, 2 telephone hybrids, 2 cellphone interface units, Tait Duplex wireless comms, IFB transmitter
10 Tait 5010 handheld radio units
4 channel digital audio delay unit
SDI audio embedder
POWER
32 amp C-form single phase